Tooth Extractions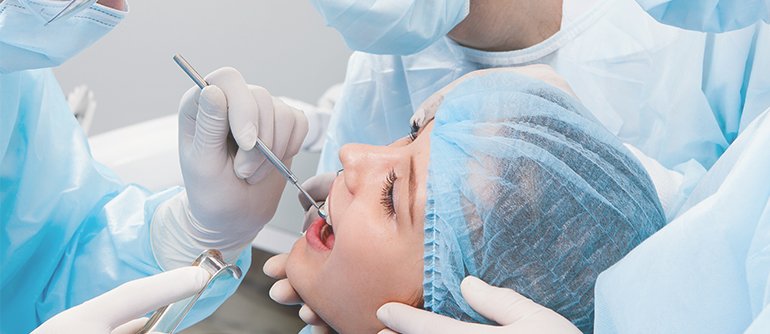 Comprehensive Dental Treatment in Las Vegas, NV
Everyone deserves a healthy, beautiful smile – but to get one, you need dental treatment you can trust. At the Center for Oral Surgery of Las Vegas, we're proud to provide convenient, comfortable oral surgery for patients of all ages throughout the greater Las Vegas, NV area. We prioritize patient comfort throughout the treatment process, and we'll work with you to ensure that recovery goes as smoothly as possible. If your dentist has told you, you need a tooth extracted, we're here to make the process simple, easy, and painless. Schedule a consultation with us today.
Why Tooth Extraction?
If your dentist has told you, you need to have a tooth pulled, you're probably feeling apprehensive – and that's ok. While no one enjoys the thought of losing a tooth, the extraction process is a simple, quick, and comfortable experience, and our world-class team will work with you to make treatment easy. The most common reason for extraction is tooth damage, usually due to breakage from trauma or dental decay. However, you might need a tooth pulled for a variety of other reasons, including:
Cavities & dental decay
A tooth is blocking other teeth from erupting
Severe gum disease has compromised the bone or supporting structures underneath a tooth
Making room for crowded teeth before orthodontic treatment
Tooth decay that can't be healed with a root canal
Fractures or breakage of the teeth
Supernumerary, supplementary or malformed teeth
Cosmetic reasons
Radiation therapy to the head or neck, which may require tooth extraction
The reasons for tooth extraction are many – but no matter why you need an extraction, you deserve to work with a team that will make the process easy. At our Las Vegas oral surgery center, we regularly perform tooth extractions for a wide variety of patients, and we focus on making the process as easy and convenient as possible for our patients. Get the world-class treatment you deserve – so you can get back to living your life. Book an appointment today.
Schedule a Consultation with Your Las Vegas Oral Surgeon
Ready to find out just how convenient getting a tooth pulled can be? As a highly experienced oral surgeon serving greater Las Vegas, we've streamlined the process to help you get the treatment you need and get on with your life as quickly and comfortably as possible. Don't take a chance on the health of your mouth and smile. Fill out our easy online form to schedule a consultation for world-class oral surgery today!