What is the lifespan of a dental implant?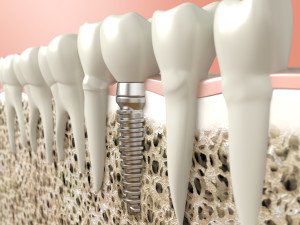 Dental implants are an excellent option for tooth replacement, giving you a natural look and comfortable new teeth that are permanent and stationary. They are also long-lasting, and should provide you with a bright, perfect smile for many years to come.
The Advantages of Dental Implants
If you have missing teeth, it's important to have them replaced as soon as possible. Dental implants are by far the best option for tooth replacement as regards both appearance and in function. They help maintain the position of your other teeth, while also providing an artificial tooth root that prevents long-term atrophy in the jawbone. They are permanent, and they won't move in your mouth when you eat, bite, chew, or talk.
Implants also last a long time. The roots are made of titanium, and so should never wear out. The prosthetic teeth—the visible portion—are made of porcelain or another durable tooth-colored material, also ensuring that your new teeth will last you for many years to come.
Taking Care of Your Implants
Just like your regular teeth, implants require care to be sure they'll last as long as possible. Although they cannot decay, they can develop issues that could cause them to fail. It's important to take proper care of your mouth to keep from creating conditions that could lead to decay of your remaining teeth as well as potentially serious gum disease.
To be sure your implants last as long as possible, follow these basic oral hygiene practices as well as any additional instructions provided by your implant dentist:
Brush your teeth regularly

Floss around the abutments of your implants

If you have a removable denture, clean it daily

Visit the dentist regularly to have your oral health evaluated
Our dentist might want you to have more regular checkups than you did before you had your teeth replaced. This is because people with implants have a slightly higher risk of developing gum disease. Serious gum disease can lead to implant failure, so be sure to keep your mouth clean and free of bacteria and plaque.
Contact our office today to learn about your implant options with us!