Stop Jawbone Atrophy with Dental Implants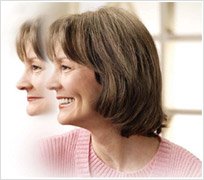 Dental implants are a popular option for maintaining healthy teeth and gums following tooth loss. In addition to the aesthetic value they provide for patients, a dental implant won't just halt jawbone loss, but it will actually encourage bone regeneration.
Jawbone atrophy is the dissolution of the bone in gum tissue where a tooth has been lost. Infection, trauma, and dental decay can all result in tooth loss, and there are many options available for patients that have lost one or more teeth. But there is only one procedure that will halt jawbone loss, and actually promote bone growth, and that is a dental implant.
A dental implant is a small titanium device that is placed in gum tissue where tooth loss has occurred. Research has proven that titanium is the ideal metal to promote fusion of metal to bone in a process known as osseointegration. Once healed, the implant provides the needed stability to the final restoration much like the root of a natural tooth.
Other dental options provide an aesthetic solution by merely resting on top of the gum, but don't do anything to stop jawbone deterioration. Over time the gum tissue visibly shrinks possibly resulting in ill-fitting prosthetics and needed adjustments. As the bone continues to recede, outward appearance may be altered as well.
In addition to maintaining jawbone strength, your implant dentist will be able to provide you with a final restoration that will be like having your own tooth back. By closely matching the color and contour of your surrounding teeth, the implant not only looks natural, but feels comfortable without the need or concern for removing it to eat or sleep.
Smiling with confidence, eating the foods you love and speaking without fear of an embarrassing slip are all bonuses attained with a dental implant. Daily flossing and brushing properly, along with twice yearly professional cleanings and exams are all that is required to maintain your dental implant, and enjoy healthy teeth and gums for life.
To learn more about the numerous benefits of dental implants, contact The Center for Oral Surgery of Las Vegas Nevada to schedule your informative consultation today.