Structure of a Dental Implant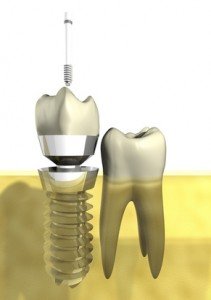 When considering treatment to replace a missing tooth, it's important to consider a wide variety of factors. What will the replacement tooth look like? Will it work in the same way as a natural tooth? Will it fill in for the tooth's entire structure or just the crown?
That last question is particularly important, as it influences many of the patient's other concerns. Consider the tooth implant, for example. It serves as a prosthetic tooth root, which results in a more secure attachment between the crown and the jaw
A tooth implant represents the most updated tooth replacement technology available in modern dentistry, which is why this treatment is becoming increasingly popular.
The structural integrity of dental implants, which are small metal cylinders, begins with the materials used in manufacturing them.
Dental implants are based on the revolutionary mid-twentieth century discovery that titanium fuses with bone. Implants are placed in the jaw in a surgical procedure performed by an oral surgeon, and after the surgery, the implant slowly osseointegrates with the jaw. This process allows the implant to become a permanent part of the mouth.
Not only does this quality of dental implants improve the connection between the prosthetic crown and the rest of the mouth, it also helps to halt jawbone atrophy that occurs when a tooth is lost. Because they attach to the bone, dental implants also are independent of the other teeth. They don't require supporting structures to be placed on surrounding teeth, and they can be maintained in the same way as the rest of the teeth.
The implant itself is used in combination with other structures, including the abutment, which is the platform that connects the implant and the crown, which is the last component of tooth replacement via dental implants. Many dental implant manufacturers offer implants with an integrated abutment, which can lead to a streamlined treatment process.
Dental implants offer the most lifelike structure of all of the tooth replacement methods, so if you need to replace a missing tooth, be sure to consider this treatment option. Contact the office of Dr. Carlos Letelier to schedule your professional consultation today.